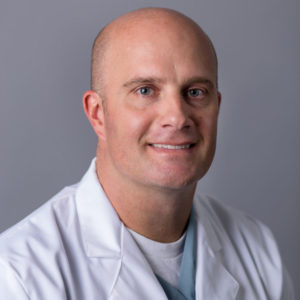 Micah Pullins, DO, is a board-certified orthopedist. He provides both non-surgical care as well as surgical intervention to help his patients obtain relief from injuries and joint disease, and to recover maximum function. Dr. Pullins also performs total joint replacement of the hips, knees and shoulders - helping bring relief to those suffering with severe arthritis and other degenerative joint diseases. Dr. Pullins also offers an advanced robotic-assisted total knee replacement solution, along with the minimally invasive direct anterior approach hip replacement surgery. These techniques may promote a quicker recovery when compared with traditional solutions. Dr. Pullins is board-certified through the American Board of Orthopaedic Surgery.
Dr. Pullins was raised in Orem, Utah. In his orthopedic surgery practice, Dr. Pullins feels honored to combine two of his great loves—his genuine interest in getting to know people of all ages and backgrounds and his lifelong fascination with how to make things work better. He is committed both to listening to his patients and offering them personalized medical information to serve them best.
One-on-One with Dr. Pullins:
Dr. Pullins' Education and Training:
Medical School:
Touro University Nevada College of Ostopathic Medicine, Henderson, NV
Residency:
Michigan State University, Genesys Regional Medical Center Health Park, Grand Blanc, MI
Getting to Know Dr. Pullins:
Micah Pullins is married and has a young son; his family is glad to be living in the West and loves being part of the Evanston community. Dr. Pullins enjoys snowboarding, wakeboarding, baseball, softball, golf, camping, hiking and spending time with family and friends.